Concert Tickets
We are not concert ticket agents but we occasionally sell concert tickets on behalf of clients or harp festivals where we are exhibiting.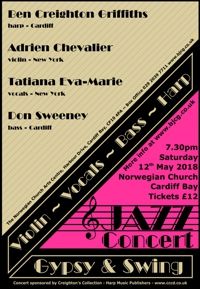 Gypsy Jazz & Swing Concert
7.30pm Saturday 12th May 2018
Norwegian Church Arts Centre,
Harbour Drive, Cardiff Bay, CF10 4PA

Violin ~ Vocals ~ Bass ~ Harp
Ben Creighton Griffiths (harp)
with special guests
Adrien Chevalier (violin)
Matheus Prado (bass)

For further information please visit Ben's web site www.bjcg.co.uk

Tickets £12

THE ON LINE BOX OFFICE IS NOW CLOSED BUT
THERE WERE SOME TICKETS STILL AVAILABLE
To check current availabilty please telephone 07593887863


Concert Update
Unfortunately, due to personal circumstances, Tatiana Eva-Marie is unable to make the trip to Cardiff. We wish her well and she sends her best wishes for a fantastic and enjoyable concert for all.

However Adrien Chevalier is currently on his way to Cardiff, and we are delighted to still be joined by Matheus Prado on bass for what promises to be a fantastic string trio night! We will make sure that the show is going to be one to remember!
Updated 9 May 2018

Concert Artists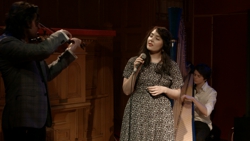 Ben and Adrien first met in October 2013 when they performed together in a number of concerts in Guadeloupe and Martinique as part of Journées Internationales de la harpe dans la Caraïbe and then in May 2015 Adrien & Tatiana travelled to Cardiff to perform with Ben and have been back every May since. This year they are joined by fellow American Bass player Don Sweeney who now lives in South Wales.

During the evening Adrien, Tatiana, Don and Ben will present a varied programme of jazz, ranging from traditional swing standards to French gypsy, and modern and electronic jazz & funk.

Adrien Chevalier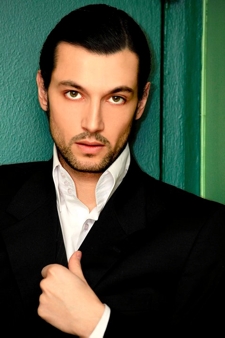 Adrien Chevalier is a violinist and composer from Avignon, in the South of France, classically trained at the Avignon Conservatory. After discovering a passion for jazz and Gypsy music, he went on to study with jazz violin master Didier Lockwood in Paris. His style is reminiscent of Stéphane Grappelli but also greatly influenced by klezmer, tango and Balkanic music.

Currently based in New York City, Adrien Chevalier is the founder and band leader of the Hot Club of New York and the Avalon Jazz Band, who have performed extensively in New York City and around the United States. He has performed with noteworthy musicians, such as Stéphane Wrembel, Adrien Moignard, Michael Valeanu, Gordon Webster, Brandi DisterheftBria Skonberg, Molly Ryan, Jérémy Bruyère, Leah Zeger,Tatiana Eva-Marie…

Adrien Chevalier can be heard several times a week in many great venues around New York City, such as Matisse, Fada, The Lambs Club, Radegast Hall, Apotheke, Beaumarchais, Domaine, the Manderley bar, the Standart Hotel…

Tatiana Eva-Marie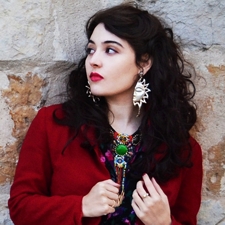 Tatiana Eva-Marie is a singer and actress living in New York City. She is the lead singer of the Gypsy-French Avalon Jazz Band and is currently developing a project inspired by her Romanian and Yiddish musical roots. She has shared the stage with renowned performers such as Nellie McKay, Marilyn Maye and Norah Jones.

Past shows include The Rainbow Room Opening Night, The Carlyle, "Tatiana's Swing Caravan" and "Do You Zazou?" at Joe's Pub, the New York Hot Jazz Festival, The Salon at the Empire Rooftop, the New York Botanical Garden, concerts for the French Ambassador in Washington DC on Bastille Day, the New York City Opera gala at the Plaza, private concerts for the Prince of Saudi Arabia, opening night of George Clooney's "Monuments Men".

Tatiana Eva-Marie frequently guest stars with Gordon Webster & Friends. Past shows include the Frankie Manning Tribute festival in Toronto, the London Lindy Exchange, the Catalina Swing Dance Festival and the Canadian Swing Championships.

When in New York, she performs regularly in clubs, speakeasies and restaurants around the city, such as The Lambs Club, Apotheke, The National Arts Club, Le Cirque, The Soho Grand Hotel, The Standard Hotel, the Manderley Bar at the McKittrick Hotel (home of Sleep No More)… Visit the shows page for detailed information.

Tatiana Eva-Marie has had the pleasure of being accompanied by some of the greatest musicians of our time, such as Nicki Parrot,Adrien Chevalier, Caroline Bugala, Dan Levinson, Will Anderson, Adrian Cunningham, Oran Etkin, Bria Skonberg, Gordon Webster,Thomas Enhco, Brad Whiteley, Michael Valeanu, Richard Padron, Randy Napoleon, Olli Soikkeli, Adrien Moignard, Vinny Raniolo, Samuel Strouk, Jérémy Bruyère, Brandi Disterheft, Or Bareket…

Don Sweeney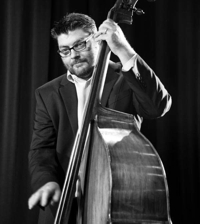 Don 'donnie joe' Sweeney is a highly active and in demand Double Bassist, Guitarist, and Singer on the South Wales Jazz scene since his arrival in the UK just over 15 years ago. He hails from sunny Southern California in the USA and specialises in Swing Jazz, Jump'n'Jive, Rock&Roll, R&B, Country, Blues, and Funk. His wide ranging influences start in the Swing Jazz world with Mel Torme, Carmen McRea, Blossom Dearie, Dave Frishberg, Louis Prima, Etta Jones, Louis Jordan, Duke Ellington, Lambert Hendrix & Ross, and end elsewhere with the likes of Ernest Tubb, The Meters, Johnny Cash, Flat&Scruggs, Emmylou Harris, Jesse Fuller, The Allman Brothers, George Clinton's Parliament/Funkadelic, Steely Dan, Graham Central Station, Solomon Burke, Bob Dylan and a .... you get the idea. The list could go on and on and on ...

Ben Creighton Griffiths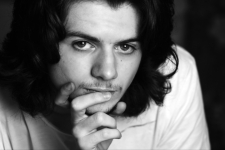 Ben Creighton Griffiths is a jazz harp and keyboard player from Cardiff who is at the forefront of electro acoustic jazz harp. He has earned himself an enviable reputation as a young International Performer touring to Brazil, Canada, The Caribbean, Croatia, The Czech Republic, France, Hungary, Italy, Netherlands & Spain. In 2017 he made his debuts in USA & Hong Kong.

Recordings
Click here for Ben's other recordings


Sheet Music
Click here for Ben's Sheet Music

Artist Web Site
For further information please visit Ben's web site at www.bjcg.co.uk

Please contact us if you have a harp event for which you would like us to sell tickets.